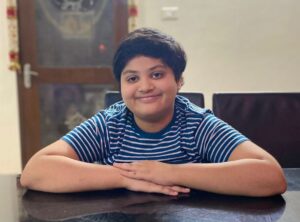 Who Am I?
I am in a new corner when it comes to blogging. I am a Kid blogger from Grade 8 Cambridge and am passionate about writing.
I want to talk about my favourite hobbies. I like writing, reading, art, learning about modern technologies, Science, the universe's workings, etc. I want to study well and be comfortable with what I have. I like being happy in my world because there will be no need to act to convince or please anyone. I am currently an introvert who can travel inwards and not change for anyone because I love myself. I like to create an impact on social issues with my writings. Once I grow older, I will help people within my limit. I want to stay self-disciplined and do productive things, and as my mom says, each sec in our life counts, and she also says to be happy whatever I choose to be in my life.
How did it all start?
Everyone can say from my childhood, I got inspired by a so-and-so person, and from then, I started showing interest in acting, sports, writing, etc. but not in my case. I used to have different hobbies like knowing about space, geopolitics, and history, and of course, I used to love English, but in 2017 I went to a workshop conducted by one of my Creative writing mentor Anupama Dalmia; from then on, my perspective towards English changed a lot, and I started writing stories. In my life, teachers played many roles in moulding me into what I am up to right now. I want to thank my teachers, Anupama ma'am, Ami ma'am, Bithi ma'am, and Suraj sir, who believed in me, and all my teachers who encouraged me in everything.
The blogger and writer in me
You might think that Writing is B-O-R-I-N-G. But it is not for me. I like writing as it gives me a chance to express my feelings. It also sparks my creativity; writing is a lot of fun if you put your heart into it. Writing helps me create my very own world. It is like you are the creator of your very own universe, where gravity does not need to exist, where laws of physics are different, where you can bring the characters alive or dead, where you can start a war or peace between nations, I can bring happiness & love between people in my stories, I can create awareness, motivation, inspiration what not I can do many things. That's why my best daily work is W-R-I-T-I-N-G(Writing). Hope by reading I wish you can change your hobby into writing tadaaaa…
As I said, Anupama ma'am created interest in me, and the main reason for my blogging is also ma'am only. The workshop that I attended in 2021 made me walk towards blogging. She drove me to think I could share all my ideas, views, and articles with the world by blogging, and that's how it all started. In the process of finding ways to create my blog, in my journey, I met Mithru Sir, ArtoonsInn Geeks Room, who made my journey smooth and helped me to create my world where my imagination reigns.
The stories were written by me that have gotten published till now are:
Three sides of a coin.
Broken Promise.
Moon Girl.
Story of roses.
Screen time.
The adventure in the Coconino National Forest.
Devil in Disguise.
Reshaped lives.
Few articles
Book Reviews
Poems
Please check the stories tab to read my stories, Poetry tab, articles tab. Please do read and encourage me.
These are the other pages where I published my work:
https://storybird.com/members/srikar_musket
https://allpoetry.com/Srikar84
https://storymirror.com/profile/3no3yz68/srikar-chitta
https://storyweaver.org.in/users/358277?bookShelf
Credits: Anupama ma'am to all the certificates and awards that I won till now and many more to go; I am still 11 years old 🙂
LOVE WHAT YOU DO. DO WHAT YOU LOVE